Kayak + Paddleboard Hourly Rentals - Reserve Now!

Escape down the beautiful Galien River in New Buffalo or Paw Paw River in St. Joseph/Benton Harbor, or paddle Lake Michigan from Silver Beach! 
Ready for a fun day on the water your friends and family will never forget? Explore Southwest Michigan on a kayak or stand-up paddleboard! It's a great way for all ages — kids and families included — to get active and explore Harbor Country's best outdoor attractions.
All rental sites now open daily 10 am-6 pm EST (last rentals go out at 5 pm EST). 

COVID-19 Update
Please note that we have implemented health and safety procedures in accordance with CDC and local government guidelines, including online reservations and payment, consistent cleaning and disinfecting of equipment, regular hand-washing and sanitizing, and increased staff training.  As paddling is an outdoor activity, it allows you to naturally maintain recommended social distance and enjoy some much-needed exercise, sunshine, and fresh air! 


Choose from the following rental equipment: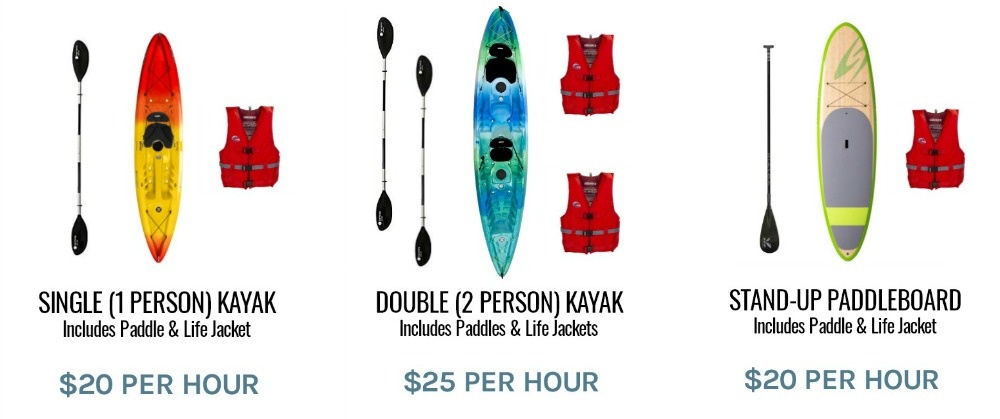 • PLEASE NOTE THAT ALL RENTAL SITES ARE ON EASTERN TIME ZONE. PLEASE ARRIVE ON TIME FOR YOUR RESERVATION. IF YOU ARE LATE FOR YOUR SCHEDULED TIME, WE MAY BE UNABLE TO ACCOMMODATE YOU WHEN YOU ARRIVE. 
• For groups larger than 20, please contact us.
• If the rental site is closed due to unsafe weather conditions on the day of your reservation, we will notify you to reschedule.
• We will gladly reschedule your rental for the current or following season, but there are no refunds on these services.

Do we need to book our rentals in advance, or can we just show up to rent?
New for 2020 – you can now reserve your kayak or paddleboard for your preferred date and time! We highly encourage you to book ahead of time to make sure you get the equipment you want at the time you want. Choose your rental location below to get started.
REMEMBER, ALL SITES ARE ON EASTERN TIME ZONE. PLEASE ARRIVE ON TIME FOR YOUR RESERVATION. IF YOU ARE LATE FOR YOUR SCHEDULED TIME, WE MAY BE UNABLE TO ACCOMMODATE YOU WHEN YOU ARRIVE. 
Prefer not to reserve your rental equipment in advance? You're welcome to drop by to rent, but please note that your selection may be limited depending on demand.
Do you pick us up at the end of the paddle?
No, you simply paddle back to where you started when you're done. It is easy (very little current on the Paw Paw River and Galien River – see below) and convenient – no shuttling or messing around – just paddle upstream or downstream and return back to the rental site when finished.
How do we know if the rental sites are closed due to weather? 
We constantly monitor the weather at our rental sites to make sure conditions are safe for our customers. If you have made a rental reservation, you will be notified by email of any changes in our hours due to weather. If you are considering dropping by without a reservation, you can see today's hours at each site at thirdcoastpaddling.com, or by following our stories on the Third Coast Paddling Instagram and Facebook accounts. 
How hard is paddling upstream on the Paw Paw River or the Galien River? Can I do it?
It's really easy. Because we are located at the confluence (meeting) of three bodies of water – the Paw Paw River, St. Joseph River, and Lake Michigan – the current on our section of the Paw Paw River is very slow and weak, so paddling against it is not difficult at all, even during high water levels on other bodies of water. The Galien River is also very mellow. That's what makes the paddle fun – you can go either way!
What are the weight limits for the kayaks?
Our single (one-person) kayaks have a weight capacity of 350 lbs. Our double (two-person) kayaks have a weight capacity of 500 lbs. 
Do you have used kayaks or stand-up paddleboards for sale? 
We evaluate our rental equipment at the end of each season, and will sell any "retired" kayaks or stand-up paddleboards in the fall. However, we can't guarantee if anything will be available, or hold items. Be sure to follow us on Facebook and Instagram for updates. 
We have kids in our group. How old does a paddler have to be? Can kids paddle alone?
Kids age 14 and older can paddle a kayak or paddleboard alone if accompanied by a parent or guardian in another kayak or on another paddleboard. Kids under the age of 18 cannot paddle alone without someone over 18 in the group. Kids age 13 and under can ride in a double kayak only if accompanied by an adult; there is no age limit, and it is up to the parent's/guardian's discretion. We have a limited amount of kids' life jackets that fit most kids starting as young as age 3. (You're also welcome to bring your own life jacket for your little ones!) All paddlers sign a liability waiver, including the parent/guardian for each child.
Can I bring my dog? 
Your four-legged friend is welcome to paddle with you, but please keep a few things in mind. We encourage you to bring a life jacket for your pet, as we don't have any dog life jackets available at our rental sites. You know your dog's temperament best, so please consider your dog's comfort level with being on the water and staying seated - some pets are more likely to "rock the boat" than others!
Can I bring my own kayak or stand-up paddleboard?  
Yes, our rental sites are all located at public launches, so everyone is welcome to bring their own equipment. 
We are thinking about doing a group outing. Can you set something up for our organization?
Yes, we handle larger groups all the time! Some of these include service organizations, corporate team-building retreats, summer kids' programs, university faculty, boy and girl scouts, and more. Feel free to reserve online instantly using the "Book Now" buttons above. For groups of 30 or more, please request a quick quote to get started. 



We host parties, corporate retreats, and other events - learn more! 
Have a question we haven't answered here?
Email

[email protected]